The Prismite in Terraria is a special type of fish that can be caught in The Hallow, both on the surface and underground. It is an ingredient in a Seafood Dinner and Lifeforce Potion. Lifeforce Potion, in turn, gives a player a buff, which increases the player's health capacity by 20%. For this reason, it is essential to know how to catch a Prismite in Terraria. Below, you will find a detailed guide on how to do this.
How to Get a Prismite Fish in Terraria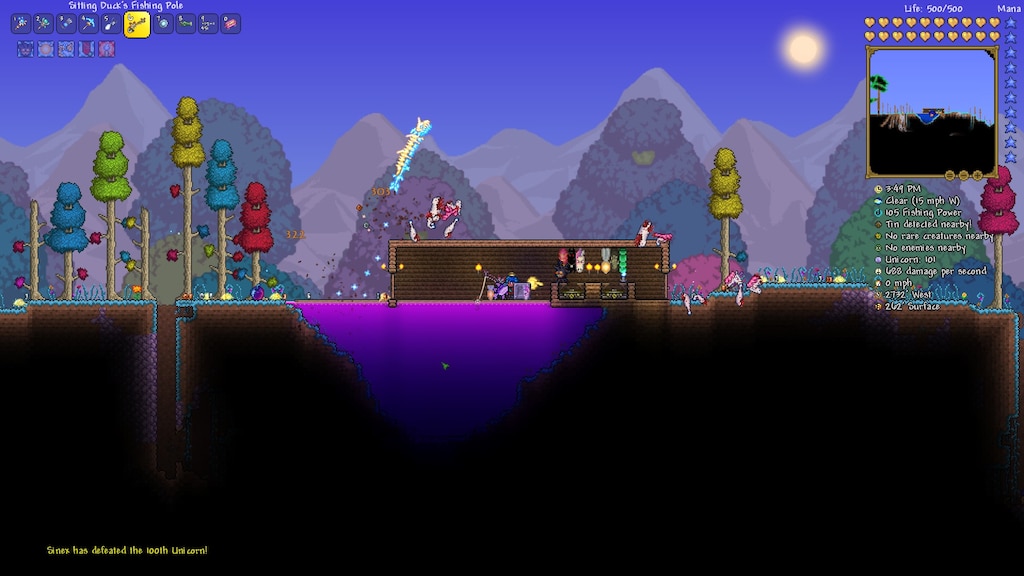 Prismite was added in update 1.2.4. Everything is pretty simple here: it can be obtained by fishing in the Hallow biome (and in the underground Hallow biome).
The Hallow is an unusual biome, only prepared players can survive in its conditions. It is easy to identify it, it is characterized by turquoise grass, colorful trees, and a large rainbow in the background. This is the only place where you can find unicorns and pixies.
RELATED: Terraria Mobile: How to Use a Controller
A distinctive feature of this biome is that it is not generated along with the creation of the map, it appears only after activating the hard mode, which appears as a result of defeating the wall of flesh. After these events, 1-2 Hallow biomes are generated on the map.
After you find the biome, you need just a simple fishing rod and bait to catch a Prismite in Terraria.
How to Use a Prismite in Terraria
Prismite fish in Terraria can be used to cook Seafood Dinner. To do this, you need to cook two such fish. Since dinner can also be made from much simpler ingredients (for example, the Princess Fish, which is caught in the pool), it is recommended to use the rare catch for crafting potions. It will increase your life bar by 20%.
To craft a Lifeforce Potion in Terraria, you need to connect on the alchemy table or station the following ingredients:
Bottled Water.
Prismite.
Moonglow.
Shiverthorn.
Waterleaf.
This is all you need to know about the Prismite Fish in Terraria and how to get it. While you are here, make sure to read our guide on the best wings in this game.
We are hiring game guide writers!
Touch, Tap, Play is looking for experienced writers to produce guides for popular mobile and Nintendo Switch titles. If mobile gaming is your passion and you want to get paid to create guides, you're in the right place. Check out our job ad today!