Free Fire OB26 is around the corner, and the Advance server testing, also known as beta testing, is currently underway for the next update. The developers are testing the new features in Free Fire OB26 Advance server before they are implemented in the global version.
Since it's a major update, the game developers will add a ton of new features, including Shirou character, MAG-7 Shotgun, Dragon pet, new lobby, and much more. Hence, in this article, we'll take a look at what major changes could be made in the upcoming Free Fire OB26 update.
1. Shirou character
The first major change of the upcoming Free Fire OB26 update is a new character, Shirou. The new character, Shirou, boasts a passive ability called Damage Delivered. With its help, he can reveal the enemy's location for 3 seconds when a user is hit within a radius of 50m. In addition to this, the first shot on the marked opponent will have a 10% additional armor penetration impact.
2. Dragon Pet
Like always, Garena will also add a new pet whose name is unknown yet. As per the images surfaced, the new pet seems to be a flying dragon, which can be bought from the in-game store only for 10 Diamonds. As of now, the players can play with this new pet on the latest advanced server. Further information related to its abilities will be revealed once it is made available in the global version.
Related: How to register for Free Fire OB26 Advance Server
3. MAG-7 Shotgun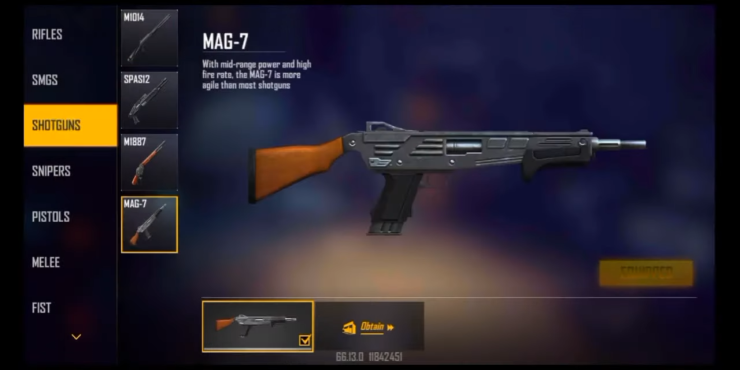 The MAG-7 is the latest shotgun in the Garena Free Fire. With mid-range power and a high fire rate, the MAg-7 is the best choice to combat in short range. The weapon can hold eight rounds of SG Ammo and can assassinate the opponent in two bullets.
4. New OB26 Update Lobby
The pre-match lobby has also been revamped in the newest Advance server. Hence, the same is more likely to be introduced in the global version too. The new lobby features a caged combat arena followed by purple lightning all around the stadium.
5. Free Look Sensitivity setting
In the end, we have a brand new sensitivity option entitled Free look relates to the look-around view of a player. Adjusting this will decide the look around speed of the player.
---
Related: Free Fire OB26 Update Release Date