Fortnite Chapter 2 Season 8 landed just a few hours ago, and with it comes a bunch of new weapons, characters, cosmetics, skins, battle pass, and more. Moreover, there are several new NPCs in the game that serve their essential services to the players. Just like the old ones, the new NPCs are scattered all across the world in your collection tab. This Fortnite guide reveals all the locations of new NPCs in the Fortnite Season 8 Cubed update.
Related: Fortnite Chapter 2 Season 8: What is the Blue Cube Called?
Fortnite NPC Locations Map
After a short downtime, Fortnite servers are once again live, and we can see that the Collections tab consists of just 17 entries. That means Fortnite has 17 NPCs in total post Chapter 2 Season 8 update.
Here are all of the Fortnite Chapter 2 Season 8 NPC locations: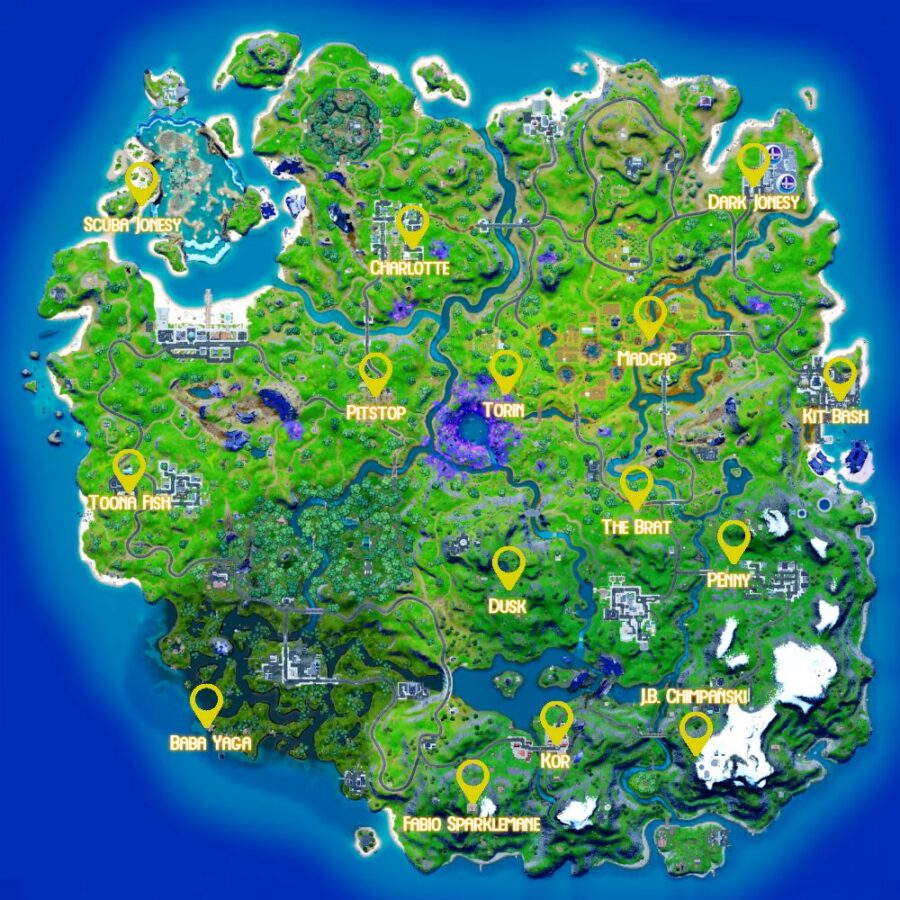 Baba Yaga – southwest of Sludgy Swamp
Fabio Sparklemane – southwest of Misty Meadows, at Apres Ski.
Dark Jonesy – can be found at Steamy Stacks
Kor – Misty Meadows, near the fountain
Dusk – west of Lazy Lake on the hill.
Torin – at Captain Carp's Delivery Truck, slighlty northeast of the Aftermath at the center of the map.
Kitbash – at Dirty Docks.
Madcap – can be found in the southeast corner of Corny Crops.
Penny – to the west of Retail Row.
Pitstop – at Boney Burbs, near the gas station.
Charlotte – can be found in Pleasant Park.
Scuba Jonesy – Coral Castle
J.B. Chimpanski – can be found at the weather station to the south of Catty Corner.
Toona Fish – can be found at the Viking Ship to the west of Holly Hedges.
The Brat – to the north of Lazy Lake
???: Unknown
???: Unknown
So there you have it—all the spawn locations of known Fortnite NPCs. We don't have info on the last two ones at the moment, but we'll update it once we get confirmation.
Related: Where to Collect Cat Food in Fortnite?
---
Don't forget to check our dedicated Fortnite section for more news, guides, features, tier lists, and more.
We are hiring game guide writers!
Touch, Tap, Play is looking for experienced writers to produce guides for popular mobile and Nintendo Switch titles. If mobile gaming is your passion and you want to get paid to create guides, you're in the right place. Check out our job ad today!