The challenges for the Fortnite Chapter 3 Week 6 are officially here, and players can earn up to a whopping 225,000 XP this week. One of the tasks in Week 6 is to get air time in a tank.
Completing this challenge is relatively easy if players know the exact location of the tanks in Fortnite Chapter 3. Therefore, here's an essential guide to completing this Week 6 challenge in Fortnite Season 2.
Fortnite Chapter 3 Tank Locations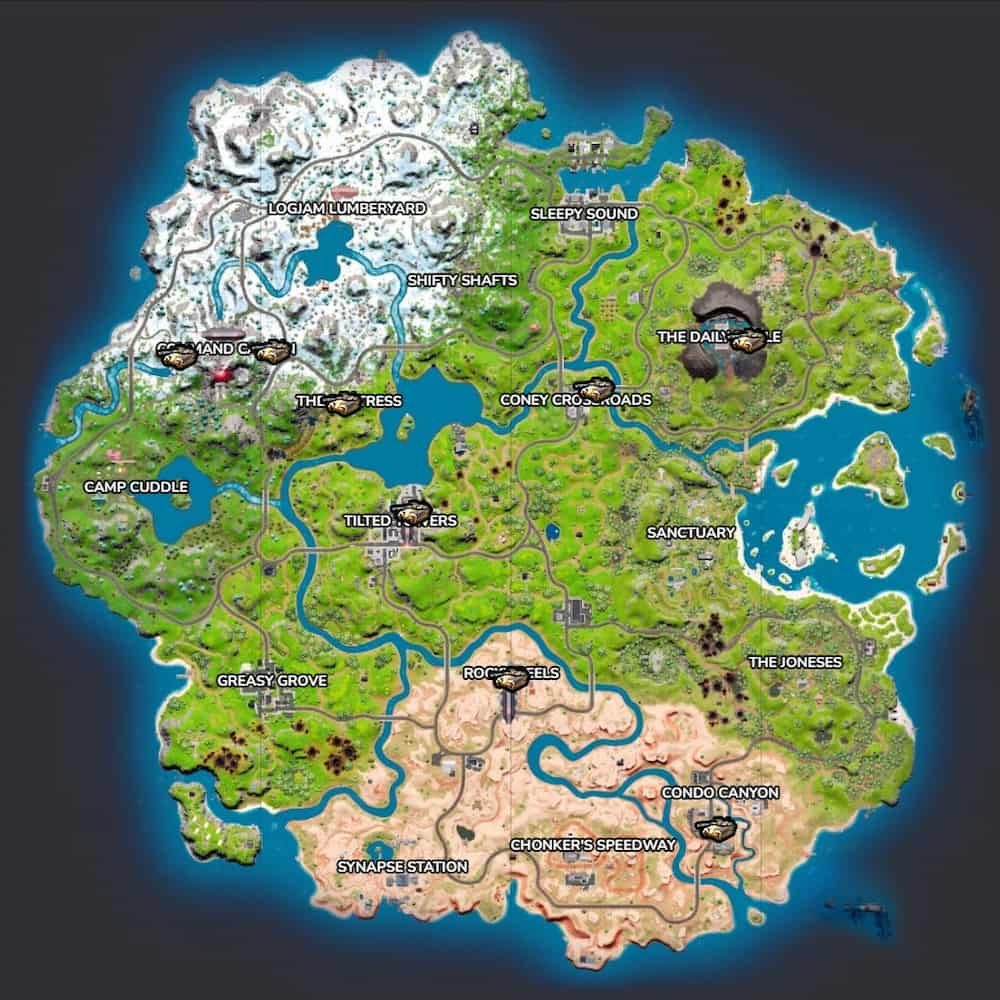 Tanks usually spawn at Command Cavern, The Fortress, Tilted Towers, Rocky Reels, Condo Canyon, The Daily Bugle, and Coney Crossroads. However, they may be moved by the IO Forces or enemy players if you land a bit late at these locations.
How to get air time in a tank?
To get air time in a tank in Fortnite, we recommend landing at The Daily Bugle, a place located northeast of the map. Once you've managed to pick up the tank from the Daily Bugle, you will find a lot of Spider Man's bouncy webs around the area. If you drive a tank over these bouncy webbings, you'll be launched up in the air and the tank will get the air time.
To complete the weekly challenge, you'll need to get three seconds of air time. So repeat the above process three times to easily complete the task and grab the level up XP.
Players can find the rest of the Fortnite Chapter 3 Season 2 Week 6 challenges below:
Deal 100 damage or more to an enemy with one bullet (1)
Mantle five times in five seconds (1)
Hit an opponent's tank with a pistol while being crouched (200)
Get air time in a tank (3)
Throw Cabbage 100 or more meters in one toss (1)
Deal damage to opponents while you are falling (150)
With a Striker Burst Rifle, hit an opponent four times in a row without unscoping (1)
Deal damage to opponents from 30 or more meters with an AR (150)
Destroy structures with fire (100)
If you still have any questions regarding this Fortnite challenge, feel free to ask them in the comments section.
Fortnite is a free-to-play battle royale game currently available on PS4, PS5, Nintendo Switch, Android, iOS, Xbox One, Xbox Series X | S, PC, and Classic Mac OS.
---
Related: Fortnite Chapter 3: Haven, Shanta, and Galactico Spawn Locations
We are hiring game guide writers!
Touch, Tap, Play is looking for experienced writers to produce guides for popular mobile and Nintendo Switch titles. If mobile gaming is your passion and you want to get paid to create guides, you're in the right place. Check out our job ad today!