Elytra is a rare item in the Minecraft world that will help the player fly in the sky. Fireworks can be used to speed up the flight. In our guide, you will find everything you need to know about Elytra in Minecraft.
Guide on How to Get Elytra in Minecraft
To find the Elytra, the player must travel to the End Dimension. After that, you need to get to the city and explore the ship. In each city of the End, there will be elytra wings in the ship, namely in the hold. The wings will hang in a frame from where you can pick them up.
It is worth remembering that in the hold you can meet unpleasant guests with whom you will have to fight! In addition, before the opportunity to explore the Edge opens, it is necessary to kill the Dragon of the Edge.
RELATED: How to Build a Beacon in Minecraft Pocket Edition
In addition, to get the wings, you can use the command: "/ give PLAYER NICK: elytra 1". Also, there is another way for lazy players to simply get them from the creative menu.
How to Find Elytra in Minecraft?
To start using the wings, you need to put them on the chest slot.
Then you need to jump from a height and push space. The flying mode will be activated.
To control the direction of flight, you need to direct the character with the mouse to the desired location.
To decrease the speed, look up, to increase, look down.
If you look up as much as possible, then your character will simply fall.
How to Safely Land on The Ground?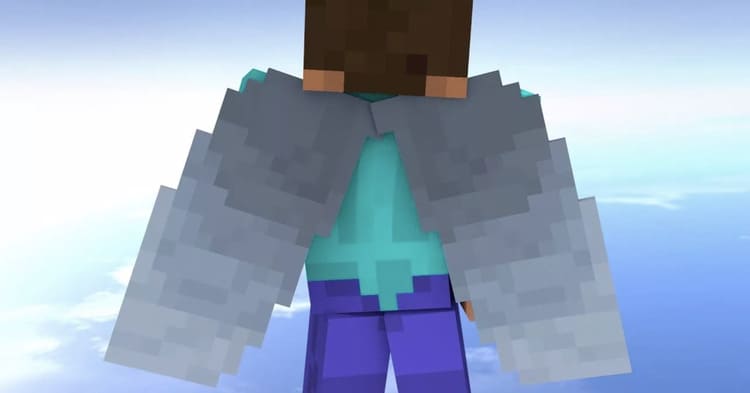 Look horizontally and find a good landing site. As soon as 1-2 blocks remain until the flat surface, sharply direct your gaze upward. So you can land without taking a lot of damage.
Alternatively, you can start spinning, directing your gaze just below the horizontal. As soon as 5-7 blocks remain, start looking completely horizontally. The final landing stage does not differ from the previous step. This is a more accurate way to land in a specific location.
Landing at high speed can kill the player, so don't do that. But, in case there is a totem of immortality, it will help to survive with this type of landing.
Using Fireworks
You can make several empty fireworks that will not contain gunpowder and other components.
During the flight, you can use them, which will allow you to get a fairly large acceleration.
Thus, it is possible to achieve almost maximum speed in survival mode – about 80 blocks per second.
It should be used carefully on the server, since the method may raise suspicion from the administration.
This is everything you should know about Elytra in Minecraft. While you are here, make sure to check our secrets on how to breed horses in Minecraft effectively.
We are hiring game guide writers!
Touch, Tap, Play is looking for experienced writers to produce guides for popular mobile and Nintendo Switch titles. If mobile gaming is your passion and you want to get paid to create guides, you're in the right place. Check out our job ad today!