The much-anticipated Assault Rifle of Call of Duty: Mobile, Peacekeeper MK2 is now available. The weapon was introduced in the Season 13 update and has given rise to a new kind of buzz among the players who were eagerly waiting for its launch.
In good news for the players, they can unlock the new Peacekeeper MK2 weapon absolutely for free. But how to unlock it? Keep reading this article to find out the answer.
How to unlock Peacekeeper MK2 in COD Mobile
To get your hands on COD Mobile's Peacekeeper MK2 gun, you must reach the Tier 21 of the free Battle Pass. Even though it's a free weapon, it doesn't mean that you can unlock it right away. You have to grind the Season 13 Battle Pass in order to unlock it.
Players can level up and unlock the Battle Pass tiers by completing daily and weekly missions. The list of available challenges can be found under the BP section of the game. Once you complete the aforementioned objective, the powerful Peacekeeper MK2 is all yours.
Related: Candy Canes in COD Mobile: All you need to know
Now you know how easy is to unlock the Peacekeeper MK2 AR. Before heading over to the game, also take a look at the weapon stats.
Peacekeeper MK2 Assault Rifle Stats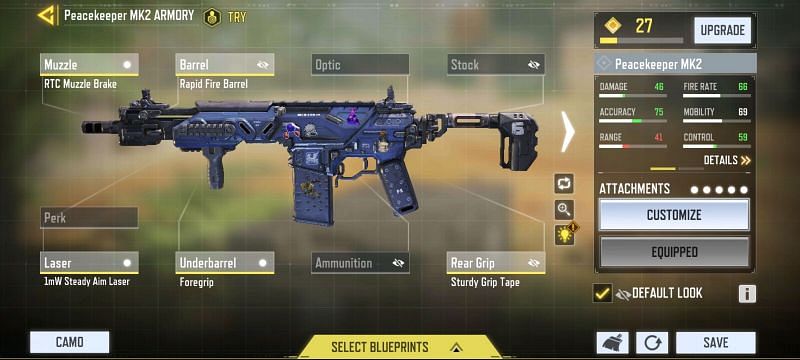 Damage: 46
Fire Rate: 66
Accuracy: 78
Mobility: 73
Range: 41
Control: 54
Much like other Assault Rifles, the Peacekeeper MK2 isn't a great choice for long-range combats. However, the accuracy being offered by the weapon is the major point to equip it in your weapon loadout.
---
Related: How to get the QXR SMG weapon in COD Mobile
We are hiring game guide writers!
Touch, Tap, Play is looking for experienced writers to produce guides for popular mobile and Nintendo Switch titles. If mobile gaming is your passion and you want to get paid to create guides, you're in the right place. Check out our job ad today!