Having a precise aim in an undeniable fact to achieve victory in the majority of multiplayer shooting titles and Call of Duty: Mobile is no exception. When it comes to enhancing your aiming skills, many experts recommend you shift to the Gyroscope feature as it helps to aim targets more quickly and efficiently.
Despite this, it's quite a tedious task to perform multiple actions like jumping, firing, and reloading simultaneously with the default touch layout, and that's where the Gyroscope feature will get the job done for you.
So how do you take advantage of your phone's Gyroscope sensor while playing COD Mobile? Well, if you're new to the game, there are high chances that you are still adapting the game features and settings. Thus, we've put down a guide that will assist you in enabling the same.
Turning on Gyroscope feature in Call of Duty: Mobile
If one might notice, the Gyroscope option is disabled when you install COD Mobile for the first time. If you're confident about weapon handling skills using the Gyroscope feature, then follow these steps to enable it:
Go to the COD Mobile settings.
Navigate to the Basic tab and scroll down to the bottom.
Locate the Gyroscope section.
Hit the ON option to enable it.
Additionally, the game further provides several customizations to try out the Gyroscope feature in different ways, such as Invert Horizontal, Invert Vertical, while ADS, and more. Now you must have learned about the process to use it.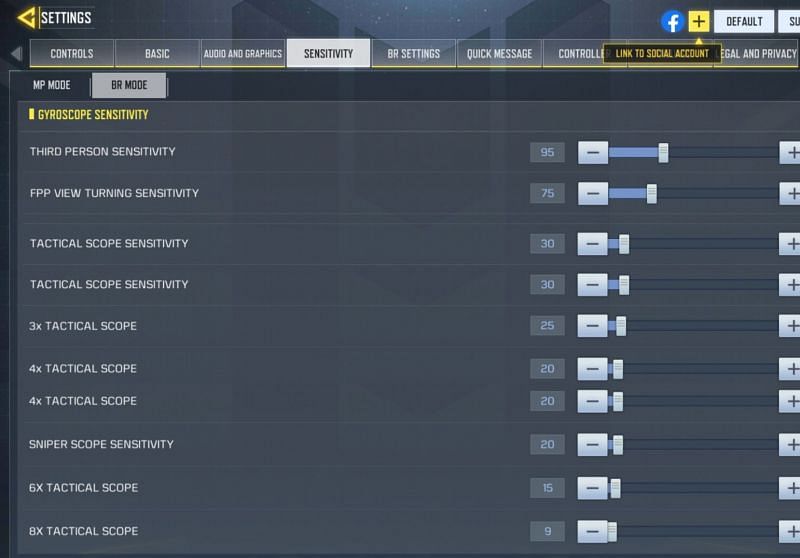 However, like the touch sensitivity settings, the Gyroscope operates on different sensitivity customizations that should be calibrated first before using it.
Third-person sensitivity: 98
FPP View turning Sensitivity: 75
Optics: 35
Tactical scope sensitivity: 30
3x tactical scope: 24
4x tactical scope: 20
Sniper scope sensitivity: 25
6x tactical scope: 15
Make sure to apply these settings before hopping on your first Call of Duty: Mobile match with Gyroscope on. Besides this, also consider practicing sometime in the COD Mobile's training mode to check whether the above-listed sensitivity settings fit your playstyle or not.
---
Related: Top 5 Popular Maps in COD Mobile
We are hiring game guide writers!
Touch, Tap, Play is looking for experienced writers to produce guides for popular mobile and Nintendo Switch titles. If mobile gaming is your passion and you want to get paid to create guides, you're in the right place. Check out our job ad today!