As a gacha-based roleplaying game, Genshin Impact offers a plethora of playable characters, each differing from one another in terms of elemental abilities, skills, background, regionality, and a few other aspects.
Recently, miHoYo rolled out the second biggest update for Genshin Impact – since its launch on September 18, 2020. The new update did bring the previously leaked location Dragonspine, alongside a bunch of new content and quality of life changes.
As of now, there are eight new playable characters in Genshin Impact that are confirmed to come in the near future. Though, we don't have a definite official release date for them.
Related | How to get Rime Worn Fragments and Crystals in Genshin Impact
With the introduction of Rosaria in the new seasonal event – The Chalk Prince and the Dragon, we were expecting her to be the next four-star character to be released with Ganyu's banner on January 13, 2020.
While the Genshin Impact community was focused on Rosaria, we had a new character that we may be seeing soon that we expected. We are talking about – Hu Tao, the first character(left side) in the above image.
Everything that we know about Genshin Impact's new character Hu Tao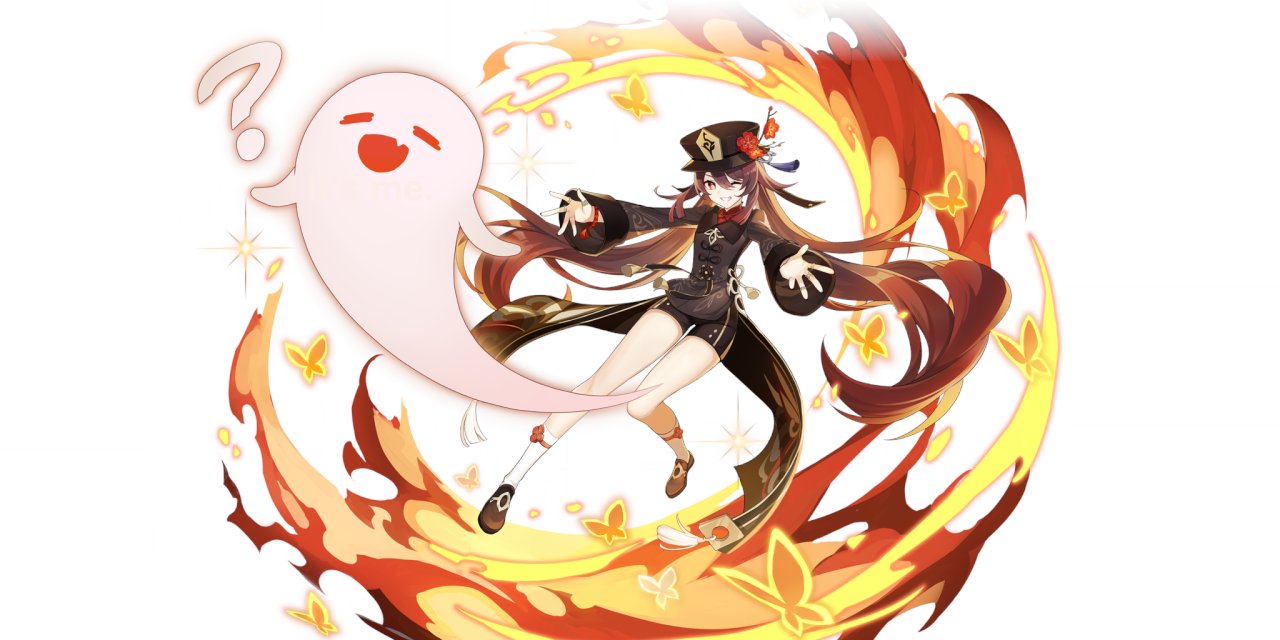 Hu Tao is an upcoming five-star Pyro character in Genshin Impact whose weapon of choice is a Polearm. While there is no official release date for Hu Tao, we do have some leaks that suggest her to be the next five-star Pyro character set to release with Genshin Impact's third major update, i.e, version 1.3.
Related | Genshin Impact: All Fatui Harbingers — Names, Alias and Rank
If the leaks are correct, then just like Albedo and Ganyu, we would be seeing Xiao and Hu Tao's banner with Genshin Impact 1.3 update.
[Update on December 26, 2020] Genshin Impact – Hu Tao's Elemental Abilities
As we promised, we are updating this article with Hu Tao's elemental skill and elemental burst abilities and some other newly found details.
Hu Tao's elemental skill is called Rebirth's Chaperone, and what it does is – Shrouds Hu Tao with fire, leading to a loss of HP. Furthermore, it turns the basic attacks into Pyro attacks and the ATK DMG bonus is inversely proportional to Hu Tao's HP. In simple words, the lower health she has – the more damage she deals.
Now moving on to Hu Tao's elemental burst attack – Godsoother, it summons a ghost that deals skill damage. [More details will be updated soon]
Hu Tao's Animation – Genshin Impact
Each playable character in Genshin Impact have their own unique set of animations. And, alike others, Hu Tao also has her own unique animation that triggers when she is idle.
Being idle for a few seconds, A little ghost pops up on Hu Tao's palm, promoting Wangsheng Funeral Parlor's – "Buy one get one free service".
New Weapon for Hu Tao
A new red polearm weapon will be added to Genshin Impact with version 1.3 update. This new weapon is best suited for Hu Tao as equipping it raises the HP by 20% and with each 1% loss in HP, players gain a 1% ATK DMG bonus.
Hu Tao's Passive Abilities – Genshin Impact
Note: Hu Tao was first leaked as a four-star Pyro character, but, new leaks suggest – she was changed to a five-star character. At current, apart from her element and weapon of choice – take her release and star-rarity as a grain of salt.
In Genshin Impact's game world, Hu Tao 77th Master of the Wangsheng Funeral Parlor. As far as personality goes, Hu Tao has a very negative one. According to Genshin Impact's Fandom, "She is typically described as a cheeky prankster who always causes trouble".
Related | How to get Butter in Genshin Impact
Moreover, "Qiqi's character stories say she has a very "punch-able face" due to Hu Tao's insistence on burying the zombie".
And, when players reach friendship level 4 with Xinyan – she describes Hu Tao as "happy-clappy". Furthermore, she describes her sense of humor by quoting Hu Tao saying "I like people who play with fire, they're good for business".
That's all for now! we will be updating this article, if we get any new news on Hu Tao.
Genshin Impact is a free to play gacha-based role-playing game currently available on PC, PS4, Android, and iOS.
We are hiring game guide writers!
Touch, Tap, Play is looking for experienced writers to produce guides for popular mobile and Nintendo Switch titles. If mobile gaming is your passion and you want to get paid to create guides, you're in the right place. Check out our job ad today!