Genshin Impact offers a plentitude of playable characters where each is dissimilar from one another in terms of elemental abilities, the weapon of choice, nationality, ethnicity, and other aspects. Barbara is a playable character in Genshin Impact, belonging to the Mondstadt region of Teyvat.
Being a roleplaying game, Genshin Impact offers playable characters that excel in some particular areas, such as – healing, DPS, AoE damage dealer, and so on. The class system in Genshin Impact may not be as defined as in any other roleplaying game, though with the help of artifacts and weapons – players can increase the efficiency of a particular class.
Related | Genshin Impact Best Builds For Albedo
With that being said, let us check out the Artifacts and Weapons for Barbara – that can make her an even better character.
Genshin Impact Barbara Best Healer Build
Barbara is a healer in Genshin Impact, her charged attacks deal with hydro AoE damage and they can also apply a hydro debuff to the enemies, hit by the attack.
We can use Barbara offensively, though we recommend players to use her as a healer – because there are other characters who suit the DPS character role even better(ex- Razor, Fischl, Diluc, Keqing, Xiangling etc).
Related | Genshin Impact Childe/Tartaglia Best Builds
To complement Barbara's healing abilities we are going to use the Maiden Beloved Artifact set, and far as the weapon goes – we will be opting for Thrilling Tales of Dragon Slayers.
Maiden Beloved Artifact Set – Genshin Impact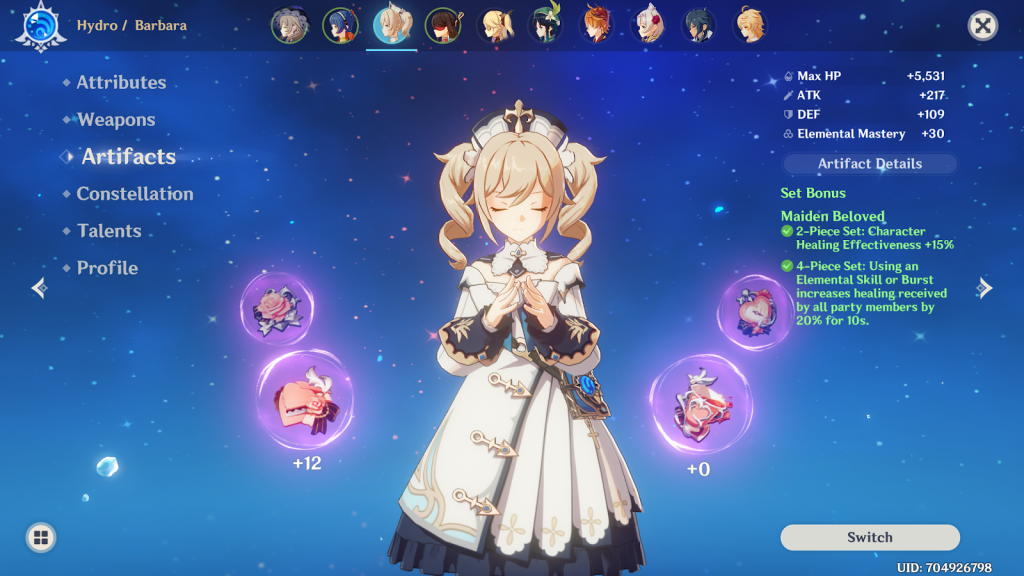 Maiden's Distant Love

Maiden's heart-stricken Infatuation

Maiden's Passing Youth

HP
ATK
DEF
Energy Recharge
Elemental Mastery

Maiden's Fleeting Leisure

HP
ATK
DEF
Physical DMG Bonus
Elemental DMG Bonus
Elemental Mastery(Raises value not percentage)

Maiden's Fading Beauty

HP
ATK
DEF
Healing Bonus
CRIT Rate
CRIT DMG
Elemental Mastery(Raises value not percentage)
The best part about the maiden's set is that it increase Barbara's elemental offensive abilities, and the set bonus from this artifact set complements her abilities as a healer.
Maiden Beloved Artifact Set Bonus – Genshin Impact
2-Piece: Character Healing Effectiveness +15%.
4-Piece: Using an Elemental Skill or Burst increases healing received by all party members by 20% for 10s.
Why Thrilling Tales of Dragon Slayers is best catalyst for Barbara?
As we mentioned earlier, with Barbara's best build – we are preferring a good offensive ability with the main focus on Support (healing, buffs to teammates). And, the newly introduced three-star catalyst Thrilling Tales of Dragon Slayers is the best option to chose.
Related | Genshin Impact: Best Artifacts For High DPS Builds
The Thrilling Tales of Dragon Slayers catalyst offers a base ATK DMG of 39, with secondary stat as – raise in HP by 7.7%. It offers legacy skills, where – while switching characters, the new character taking the field has their ATK increased by 24% for 10s. This effect can only occur once every 20s
We are hiring game guide writers!
Touch, Tap, Play is looking for experienced writers to produce guides for popular mobile and Nintendo Switch titles. If mobile gaming is your passion and you want to get paid to create guides, you're in the right place. Check out our job ad today!