The fire-type Pokemon from the Johto region, Slugma is a very popular Pokemon initially released in the second generation of Pokemon Go. We have a variety of Pokemon from the original series in Pokemon Go that players catch, train, and use for battle. And most of the OG Pokemon have a shiny variant that offers a different Aesthetic. In the wake of that, the Pokemon Go community has long tried to find a Shiny Slugma. But no one could find it. This takes us to our today's topic, "Can Slugma be shiny in Pokemon GO?."
Yes, just like any other Pokemon in Pokemon Go, Slugma can be shiny. Moreover, we also have a Shiny Slugma reference image on the Pokemon Go fandom page. However, just because Slugma can be shiny it doesn't mean it is available in the game.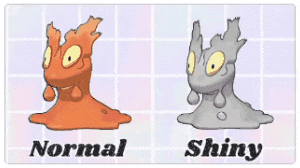 On to the next question that we often see pop up in the Pokemon Go community.
Is Shiny Slugma available in Pokemon Go?
Sadly, the answer to this question is a No. Even though Slugma was added in Pokemon Go, way back in 2017. We do not have a Shiny variant of Slugma available in the game right now.
We thought maybe it was added but not announced. So we looked all over the Social Media, Community pages, official posts and other places where we could find Shiny Slugma's existence in Pokemon Go.
As we all know, the Shiny variants serves only aesthetic purpose. So releasing a Shiny Slugma in Pokemon Go is no big deal for Niantic. However, it's been more than three years with Slugma having no Shiny variant in the game and it raises concern. At current, we don't any official info on when Shiny Slugma will get added to the game.
However, if we get any information on Shiny Slugma release date. We will update this article.
Pokemon Go is an augmented reality game based on the famous Pokemon Series. The game allows players to catch a plethora of Pokemons, do gym and PVP battles and much more.
We are hiring game guide writers!
Touch, Tap, Play is looking for experienced writers to produce guides for popular mobile and Nintendo Switch titles. If mobile gaming is your passion and you want to get paid to create guides, you're in the right place. Check out our job ad today!