PUBG Mobile is a widely popular battle royale game that offers a plethora of unique game modes, weapons, game maps, and more. With millions of players playing the game concurrently across different servers, players are bound to get in tough situations in matches, high PVP engagements and this leads to a question that is more of a preference. Which weapon should I use to win?.
A game like PUBG Mobile offers a lot of choices when it comes to the Arsenal. Each of the weapons is divided into different categories like Snipers, ARs, Shotguns, Pistols, and so on.
Related | How to register for PUBG Mobile 1.2 Beta update
Though, there is another form of categorization that is quite often used in the PUBG Mobile community. We are talking about the category of weapons based on range, i.e, Long Range, Short Range, Mid Range Weapons.
DBS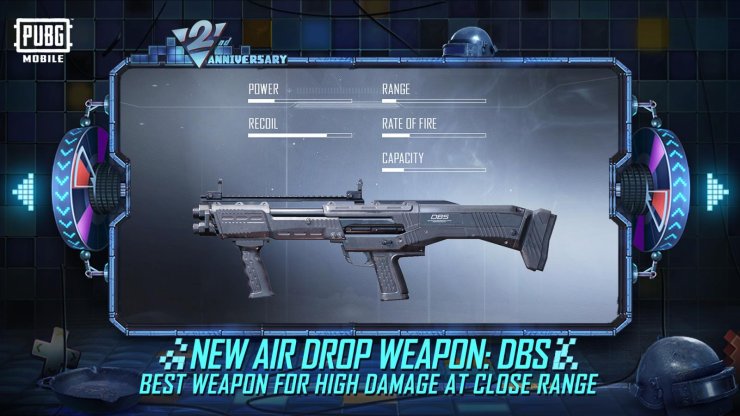 DBS Shotgun is a Drop Weapon in PUBG Mobile that has an effective range of 15m and hit damage of 26. In terms of raw power and potential DBS is one of the best, if not, the best shotgun in the entire game.
Related | PUBG Mobile 1.2 Beta update Patch Notes
In terms of Magazine size, DBS carries 14 rounds of 12 Gauge. It is a bullpup rifle that fires like a burst rifle. Shotguns are mainly used for short-range engagements and DBS is good at that.
The reload time, range, and requirement of good aim is where DBS fails as it cannot be used for long-range, reloading the 14 rounds take an obscene amount of time, and as a Bullpup rifle players should better not miss their shots.
S12K
S12K is the best shotgun available in PUBG Mobile when we take accessibility, high damage, fire-rate, and bullet spread into consideration. Unlike DBS, S12K is a ground loot weapon and its high accessibility and ease of use make it one of the most community-recommended shotguns.
Related: Best PUBG Mobile names with unique symbols
In terms of damage, S12K does 24 hit damage per pellet, a range of 25M, and a magazine size of 5(base).
S12K is the best shotgun to use at almost any range.
S1897
S1897 is a beast of a shotgun in terms of raw damage. It has a range of 25m(best), effective range of 80m and shot spread of 5.5. Among the list of all available shotguns the s1897 is one of the most stable ones.
However, missing a shot may result in your death as it takes an obscene amount of time to charge another shot.
Other Mentions
S686 Shotgun
Sawed Off Shotgun(side arm)
PUBG Mobile is a free to play, battle royale game currently available on Android and iOS devices. There is also a PC and Console version of the game handled by the original developers and PUBG Corp.
We are hiring game guide writers!
Touch, Tap, Play is looking for experienced writers to produce guides for popular mobile and Nintendo Switch titles. If mobile gaming is your passion and you want to get paid to create guides, you're in the right place. Check out our job ad today!