Like other competitive games, PUBG Mobile is one of the most difficult titles which requires a lot of skills to reach a higher rank. While playing the game against professional players, sensitivity settings plays a vital role to ensure victory in the game. A perfect sensitivity setting in PUBG Mobile can significantly enhance your aim and provide better control over the weapon's recoil. Whereas, an inaccurate one can even cost you a precious rank up match.
Therefore, it's necessary to use ideal sensitivity settings to hunt down your enemies on the battlefield. Let's take a look at the sensitivity settings which are the most suitable for every PUBG Mobile player.
Best sensitivity settings for PUBG Mobile
It's important to note that the below settings will only work well with Assualt Rifle weapons like M416, Scar-L, AKM. Tweak your PUBG Mobile sensitivity settings by navigating to settings and then to the sensitivity tab.
Camera Sensitivity (Free Look)
Camera sensitivity is associated with free look view of the in-game character. Set the following settings by adjusting the slider bar on the screen.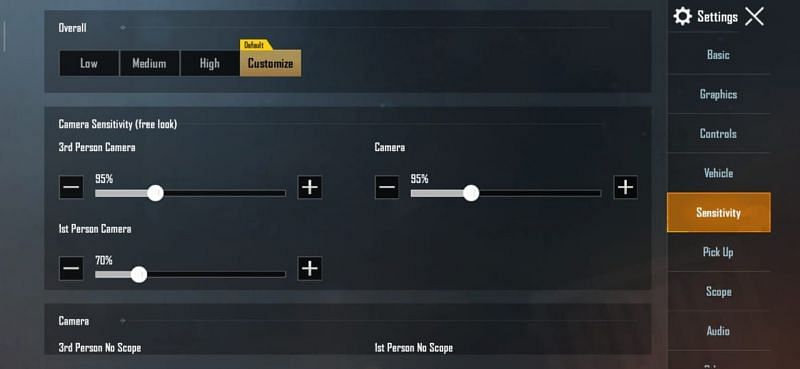 Camera: 95 – 100%
TPP: 95 – 100%
FPP: 70 – 75%
Camera
It affects the sensitivity of camera when the screen is swiped without firing the weapon.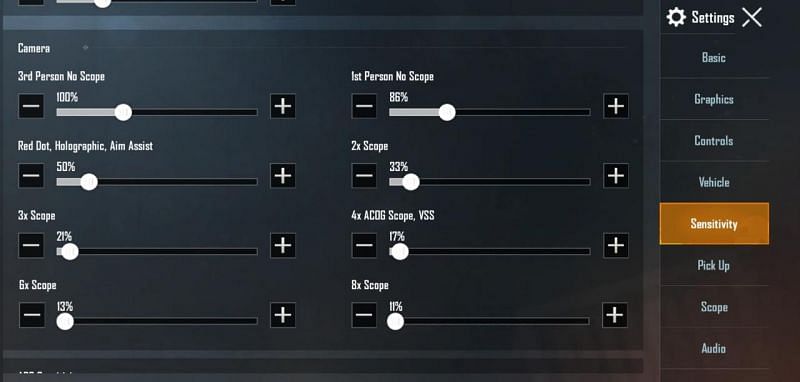 TPP with no scope: 95-100%
FPP with no scope: 85-90%
Red Dot, Holographic, Aim Assist: 50-55%
2x Scope: 30-35%
3x Scope: 20-25%
4x Scope, VSS: 15-18%
6x Scope: 10-13%
8x Scope: 10-13%
ADS Sensitivity
ADS is a short form used for Aim Down Sight. It's related to the movement of weapons while using attachment sight like holographic and red dot.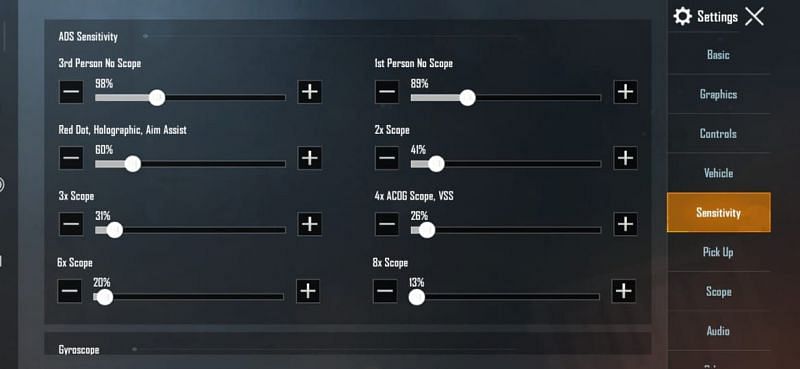 TPP with no scope: 95-100%
FPP with no scope: 85-90%
Red Dot, Holographic, Aim Assist: 55-60%
2x Scope: 37-42%
3x Scope: 30-35%
4x Scope, VSS: 25-30%
6x Scope: 20-23%
8x Scope: 10-13%
Gyroscope Sensitivity
Gyroscope sensor is used in mobile devices to track the physical movement of the smartphone. Here are the best sensitivity settings for Gyroscope: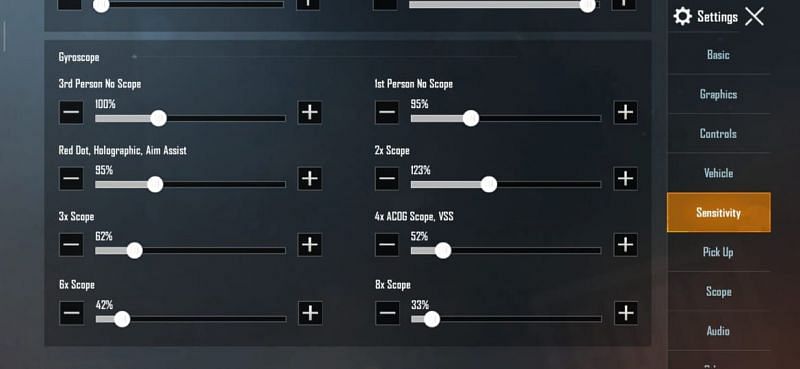 TPP with no scope: 95-100%
FPP with no scope: 95-100%
Red Dot, Holographic, Aim Assist: 90-95%
2x Scope: 120-125%
3x Scope: 60-65%
4x Scope, VSS: 50-55%
6x Scope: 40-45%
8x Scope: 30-35%
---
​After using the settings mentioned above, it's highly recommended for players to try it out once in the training section of the game. Users can also adjust these sensitivity settings a little bit according to their comfort.
Related: PUBG Mobile vs. New State: Similarities and Differences
We are hiring game guide writers!
Touch, Tap, Play is looking for experienced writers to produce guides for popular mobile and Nintendo Switch titles. If mobile gaming is your passion and you want to get paid to create guides, you're in the right place. Check out our job ad today!