PUBG Mobile, one of the infamous battle royale games, is well known for its wide range of cosmetic items like gun skins, outfit sets, emotes, vehicle skins, and a lot more. These items do not provide any extra advantage on the battlefield but are only meant to enhance the players' visual experience.
However, PUBG Mobile items are usually expensive, and players must spend real money to grab them. Since not everyone has a lot of cash to exhaust on these items, PUBG Mobile redeem code is a great alternative to earn free weapon skins, character outfits, UC cash, and emotes in the game.
Related: PUBG Mobile: How to get free gun skins | Tips & Cheats
Sometimes, players are also rewarded with permanent rewards when they use these redeem codes. Hence, without further ado, let's take a look at the working redeem codes.
PUBG Mobile Redeem Codes – January 2022
DKJU9GTDSM – x1000 Silver Fragments
BARISGEID – Kong Team – Pan
DKJU9GTDSM – x100 Silver Fragments
BBVNZBZ8M9 – Free PUBG Football & Chicken Popularity
PEACE – Piglet Set
GODZILLAKONG – x1 Aircraft Pilot License, 3 Silver
TIFZBHZK4A – Legendary Outfit
BBVNZBZ4M9 – x2 Red Tea Popularity
LUCKY – Combat Driver Set
BAPPZBZXF5 – Get UMP-45 Gun Skin
UCBYSD600 – x600 UC redeem code
VEZIRBEYEID -GVK Parachute
LEVKIN1QPCZ -Pacer Set – Gold
BAPPZBZXF8 – UMP Gun Skin
ZADROT5QLHP – Stealth Brigade Set
BDFVZBIZ7KN – unknown reward
TQIZBz76F – Motorcycle Skin
DOCHEID -Kong Team – Pan
RAMADANMUBARAK – Jester Hero Headgear
EKJONARKJO – M416 Gun Skin
TIFZBIZACZG – Legendary Outfit
PGHZDBTFZ95U – M416 Skin only for first 5000 players
SIWEST4YLXR – Assassin Suit & Bottom
BOBR3IBMT – Desert Ranger Set
RNUZBZ9QQ – Legendary Vehicle Skin
HEALTH – Combat Driver Set
SD16Z66XHH – SCAR-L Gun Skin
VETREL2IMHX – Bumble Bee Set
JJCZCDZJ9U – Golden Pan
BMTJZDZPPK – Jester Hero Headgear
GPHZDBTFZ – Scar-L Gun Skin
BNBEZBZECU – unknown reward
TITANSLASTSTAND x1 Aircraft Pilot License, "Follow Me" Graffiti
BEAUTY – Duelist Set
PUBGMOBILEBD – unknown reward
PUBGMCREATIVE – Jungle Prey Parachute (1 day)
BBKTZEZET8 – PUBG Operation Leo Set Legendary Outfit
MIDASBUY – Free Namecard and Room Card
UCBYSD800 – 800 UC
GODZILLAVSKONG – 1 Aircraft Pilot License, "Curious" Graffiti
BBKRZBZBF9 – PUBG Cannon Popularity
BBKTZEZET3 – Legendary Outfit
DKJU8LMBPY – Free Silver Fragments
Expired Codes
HEALTH:
UCBYSD600:
TQIZBZ76F
BBKVZBZ6FW
NEIZBZKND
SDYMKTKTH8
JJCZCDZ9U
SD16Z66XHH
SD14G84FCC
BCAHZBIZ88B
TIFZBHZK4A
5FG10D33
HJ4XVYGP5QHO
BBKTZEZET3
The above promo codes are currently active, and players can claim them by following the below-mentioned steps. Also, note that these redeem codes do expire. Therefore claim any sort of promo code as soon as possible.
How to redeem PUBG Mobile redeem codes?
---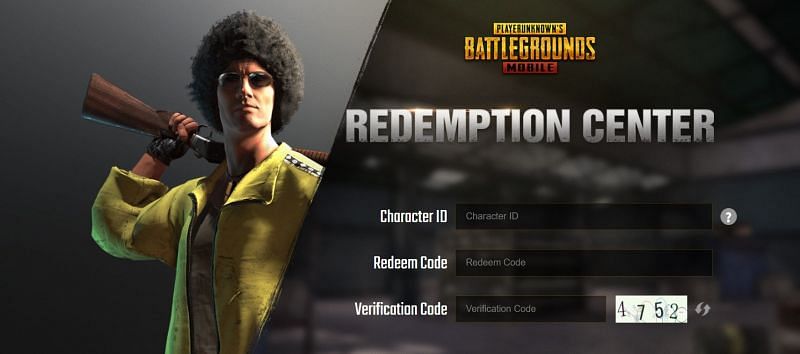 Visit the official PUBG Mobile redemption center by clicking here.
Enter your account's character ID.
Enter the special redeem code.
Fill in the verification code in the last text field.
Verify all the details and hit the OK button.
Open the Mail section in PUBG Mobile to claim your reward.
---
Related: How to Go First Person in PUBG Mobile
Did we miss any PUBG Mobile codes? Let us know by leaving a comment down in the comments section below!
We are hiring game guide writers!
Touch, Tap, Play is looking for experienced writers to produce guides for popular mobile and Nintendo Switch titles. If mobile gaming is your passion and you want to get paid to create guides, you're in the right place. Check out our job ad today!