Knowing the essential tips and tricks of competitive games like PUBG Mobile is important to become a professional in the game. There are several factors that decide the performance of the player but shooting and aiming skills of the players is the key element that keeps them one step ahead of their opponents.
In today's scenario, PUBG Mobile is one of the most challenging games on the internet with over 100 Million downloads on Google Play Store. With a huge active player base, it's not an easy task to reach a higher rank especially when the players around the world are trying to push up their ranks.
With that in mind, we'll share the best-advanced tips and tricks to improve your PUBG Mobile aim without spending countless hours in the game.
Find a perfect sensitivity setting
The first and foremost tip to enhance your PUBG Mobile aim is to choose perfect sensitivity settings. The best way to find the most suitable one for you is to practice in the training section of the PUBG Mobile. It's recommended to use different weapons and adjust the sensitivity according to your comfort. Once you get positive results, you're all set to dominate the battlefield. You can check out this detailed guide on the best PUBG Mobile sensitivity settings.
Turn on Aim Assist
Aim assist is one of the most used features in PUBG Mobile that help players to aim better in the game. The feature will help you to easily track the target and improve your aim while firing the weapon. Enable the Aim Assist feature by navigating to the PUBG Mobile settings option and then to the Basic tab.
Use a Four-Finger claw setup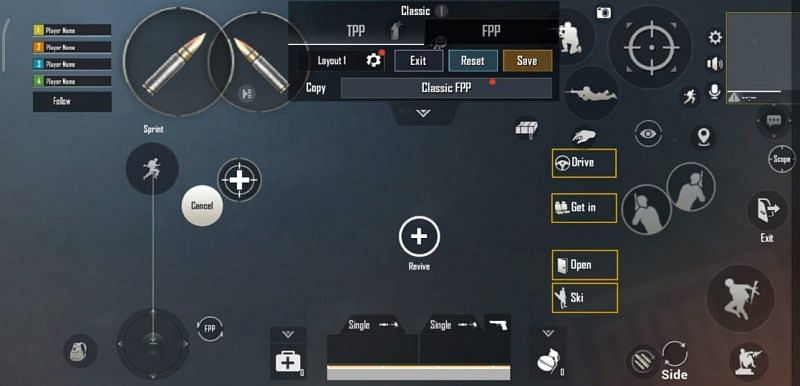 In general, PUBG Mobile players use their thumbs to play the game. However, due to several controls present on the screen, it becomes difficult to perform multiple actions simultaneously. Therefore, it's highly recommended for players to use a four-finger claw layout as shown in the above image, which allows users to perform multiple actions like firing the weapon, jumping, opening sight, and more at the same time.
Use a dark color crosshair
The visibility of the crosshair also matters a lot while aiming and shooting towards your enemies. Change your crosshair color to black or whatever is the most appropriate for your eyes, to get better visuals while engaging on the battleground. Navigate to the game's settings and open the Crosshair tab to modify its color.
Conclusion
There's a wise saying, "Practice makes a man perfect." Only modifying the in-game settings is definitely not going to help you in improving your aim. Make sure to proceed in the training section to exercise your aim for at least 30 minutes as it will help you a lot to get better control over the weapon's recoil. Moreover, also learn from PUBG Mobile pros by watching their live-streams on YouTube and Twitch.
​