Genshin Impact is a gacha-based role-playing game widely popular because of its unique variety of playable characters, and the similarities that it shares with The Legend Zelda: Breath of the Wild.
Whether we talk about Genshin Impact's story, gameplay, open-world, the gacha-mechanics, RPG elements, or any other aspect of the game, almost everything is put well together.
Related | Genshin Impact: How To Get 5 Star Characters
One of the most liked features of Genshin Impact is its cast of Japanese voice actors for different characters. Even though Genshin Impact is free to play the game, the developers miHoYo have not cut down the cost when it comes to voicing their creation.
Genshin Impact Aether and Lumine's Voice Actor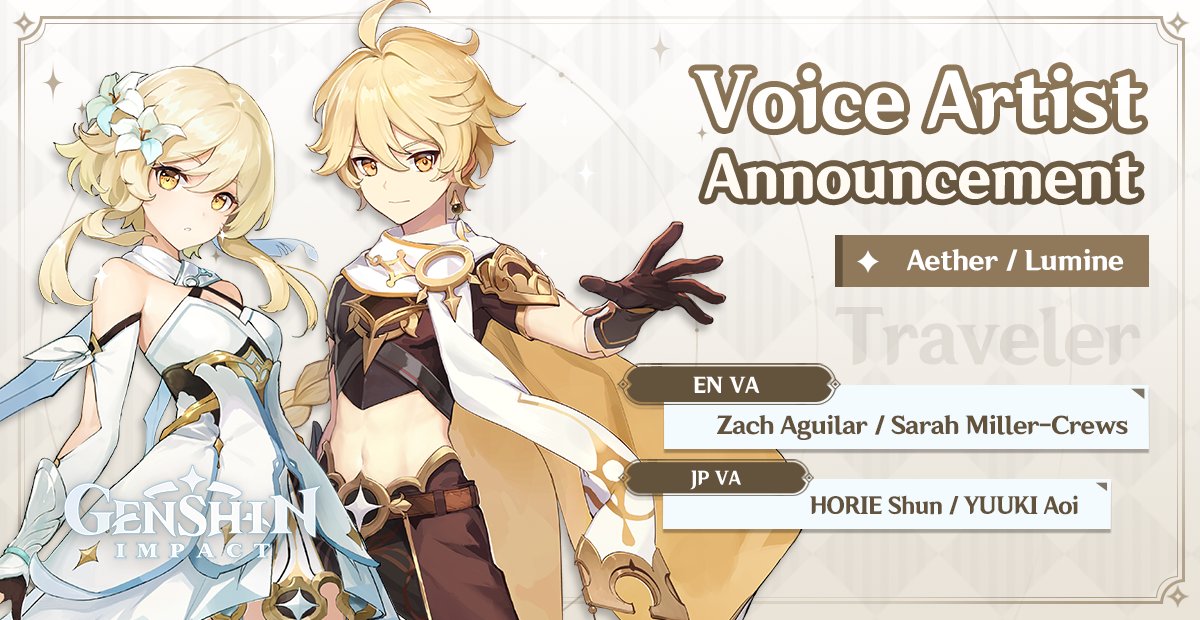 A few days ago, miHoYo officially announced the voice artists for the Traveler. Both Aether and Lumine's voice actors are quite known for their past work and there no doubt that many of you might recognize them with their names.
Voice Actor EN VA: Zach Aguilar / Sarah Miller-Crews
JP VA: HORIE Shun / YUUKI Aoi
Recently, Aether's English voice actor Zach Anguilar played the role of Kamado Tanjiro in Demon Slayer anime dub, Byleth in Fire Emblem: Three Houses, Genos in One Punch Man's anime as well as the game. Meanwhile, the Japanese VA Shun Horie played the role of Hacker in Akudama Drive anime.
Related | Genshin Impact All 5 Star Characters
Now, talking about Lumine, her English voice actor Sarah Miller recently played the role of Angela in Trials of Mana. Meanwhile, the Japanese voice actor YUUKI Aoi has played the following roles-
Lysithea in Fire Emblem: Three Houses
Futaba Sakura in Persona 5
Menat in Street Fighter V
Taihou in Azur Lane
Platinum the Trinity in BlazBlue
Froppy in My Hero Academia.
Genshin Impact Paimon's Voice Actor
Genshin Impact's official mascot Paimon is loved by almost all the players. She is a beautifully crafted character that will always keep you entertained with her unique set of dialogues. Paimon's English dub is voiced by Corina Boettger who previously played the role of Anju Yuki in Love Live! and Terrible Tornado(Tatsumaki) in the One Punch Man game and anime.
Related | Genshin Impact: Star of Destiny Event, Fallen Star Challenge Guide
Paimon is famous for her Japanese voice lines. And, she should be, as the Paimon's Japanese voice is given by none other than Aoi Koga. She has played the role of Rozaliya Olenyeva in Honkai Impact 3rd, Kaguya Shinomiya in Kaguya-sama: Love is War, and Ange Le Carre in Princess Principal: Crown Handler 1.
When it comes to experience, both the English and Japanese voice actors are skilled in their line of work. The amount of effort they put in brining the 3D characters alive is not comparable.
Genshin Impact is a free to play gacha-based role-playing game currently available on PC, PS4, Android, and iOS.
We are hiring game guide writers!
Touch, Tap, Play is looking for experienced writers to produce guides for popular mobile and Nintendo Switch titles. If mobile gaming is your passion and you want to get paid to create guides, you're in the right place. Check out our job ad today!