PUBG Mobile 1.5 update is around the corner, and many exciting new features are coming in the upcoming version. The update will officially drop tomorrow, i.e. July 9th.
Players can download the 1.5 update from Google Play Store and Apple App Store. The PUBG Mobile 1.5 global update will weigh somewhere around 990 MB, excluding the resource packs.
From the content perspective, the forthcoming update is set to bring complete transformation for the several locations, mission Ignition, new ASM Abakan gun, Tesla vehicle and more. Moreover, several bugs and improvements will be carried out in the latest version.
Here are complete patch notes of the PUBG Mobile 1.5 update.
New Mode: Mission Ignition
The mode will be available from July 9 to September 6.
You can access this mode through EvoGround and experience a new Erangel, transformed by technology.
Players can earn Rating Points in this mode.
Complete Tranformation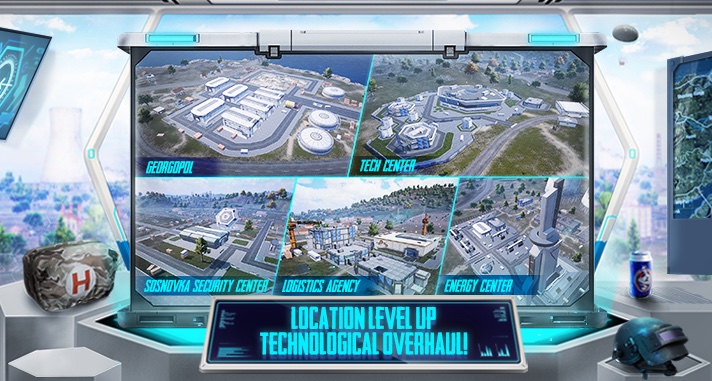 The following places will be completely transformed in the PUBG Mobile 1.5 update.
Transit Center (previously Pochinki)
Port of Georgopol (previously Georgopol)
Tech Center (previously the School)
Security Center (previously the Military Base)
Logistics Agency (previously Yasnaya Polyana)
Energy Center (previously Mylta Power)
Mission Ignition's Special Gameplay Systems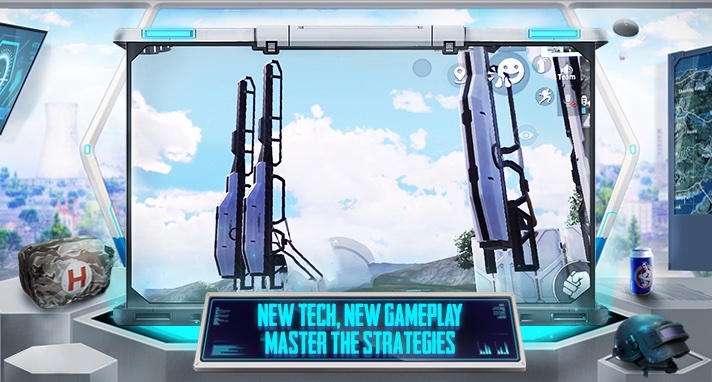 Dynamic Elements

Lifts, automatic doors, and other moving platforms will appear in the upgraded urban area.
HyperLines

To make travel more efficient on Erangel, the Logistics Agency has set up HyperLines on Erangel to connect the various cities of the island. Players can use these HyperLines to move between fixed locations at certain times and take advantage of these characteristics to employ more tactics.
Air Conveyor

The Command Center has set up this special transport tool outside some urban areas and bases to help security personnel travel through the air and conduct patrols in the sky.
New Weapon: ASM Abakan
The ASM Abakan fires 5.56mm rounds and has three firing modes: full-auto, two-shot burst, and single-shot.
First two shots are extremely accurate and can be fired in quick succession, which makes this firearm suitable for burst firing.
New Attachments
Ergonomic Grip: Grip attachments can greatly improve the handling of firearms, enhance vertical/horizontal recoil control, and accelerate recoil recovery.
Muzzle Brake: This muzzle attachment can effectively reduce bullet scattering and control recoil.
Drum Magazine: This magazine attachment can be equipped on all rifles and greatly increases magazine capacity at the cost of slightly longer reloading time.
New Vehicle: Anti Gravity Motorcycle
The amphibious Anti-gravity Motorcycle has seats for 2 and can be used to conveniently travel across the whole map.
Mission Ignition's Unique Items and Features
Tactical Marking Device
Riot Shield
Spawn Island Holographic Display
Jump Marker
Auto-Parachute
Added flight animations for missiles before they explode in air raids to make it easier to judge where they will explode.
Added an indicator feature to indicate the approximate location of grenades that are about to explode near players.
New Firearms and Combat Improvements
New weapon MG3: Using 7.62mm rounds, this weapon features a unique firing mode, and its rate of fire can be flexibly adjusted to 660 or 990 rounds per minute, allowing for both stable continuous shooting and rapid spraying. When used with a bipod, its recoil is significantly reduced while firing prone. This firearm only spawns in Air Drops.
Adjustments to the M249
Rate of Fire Compensation System
3rd Person Camera Perspective Settings
 New Glass Windows
Default Control Logic Improvements
Team Deathmatch – Hangar Improvements
Adjustments to EvoGround – Payload 2.0
New Features

New Quick Wheel
New Throwable Consumables
New Victory Statue
New Victory Snaps
New Remaining Ammo Indicator
New Death Replay Data Display
Customized Firearm Settings
Specialized Firearm Sensitivity Customizations
New Teammate Engaging Notifications
Basic Performance Improvements:
Support for and improvements of IBL to provide more realistic lighting effects in maps and improve the distinction between textures.
Support for light scattering in the sky, including Rayleigh scattering, Mie scattering, atmospheric fog, and other effects, to make the sky more transparent and realistic.
Support for richer vegetation effects, dynamic clouds, realistic simulated cloud illumination effects, etc.
Security Improvements
Further strategic improvements to target the grass-removal cheat, no recoil cheat, X-Ray vision, auto-aim, and speed-up cheats.
Enhanced efforts to prevent the cracking of various resources.
Continue to strengthen defenses against various network attacks.
System Improvements
Lobby Banner Improvements
Reward Screen Improvements
Combat Survey
Main Screen Info Optimization
Moments Optimization
Improvement of In-Game LIKEs
---
Related: PUBG Mobile 1.5 Update: Release date, features, size and more
We are hiring game guide writers!
Touch, Tap, Play is looking for experienced writers to produce guides for popular mobile and Nintendo Switch titles. If mobile gaming is your passion and you want to get paid to create guides, you're in the right place. Check out our job ad today!