Medals have been a crucial part of COD Mobile since the very beginning. There are several unique medals in COD Mobile scattered across different modes.

In COD Mobile Season 8, the developers have added the Gun Master medal. Medals test your COD Mobile skills in some way, which makes them all the more desirable. This article will serve as a guide for players on how to get the Gun Master medal in COD Mobile Season 8.
COD Mobile Season 8: Everything you need to know about the Gun Master medal
The Gun Master medal is exclusive to the Battle Royale mode in COD Mobile. However, you can choose any map you want; this means you can even select your favorite map to gain an advantage against your adversaries.
In order to get your hands on the Gun Master medal, you will need to kill eight enemies in a single match. This requirement ensures that your skills, gameplay tactics, and map knowledge will be tested.
RELATED – How to unlock AS-VAL Pollinator in COD Mobile?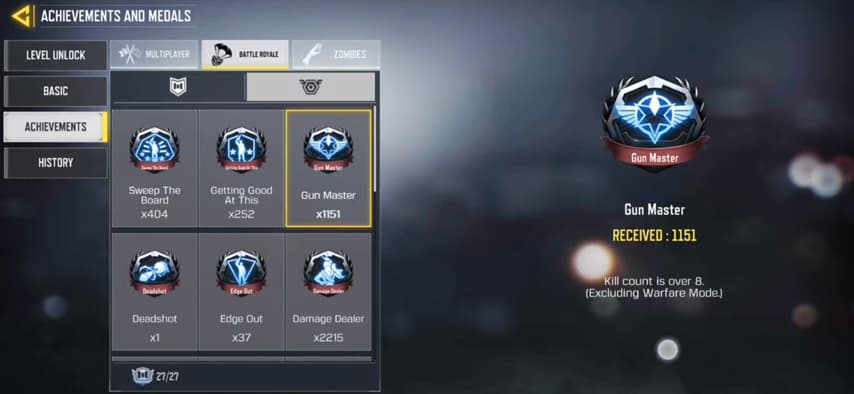 Killing eight players in a single battle royale game is no easy feat. While there is no guide on killing eight players in one match, having deep knowledge of the game and presence of mind is advantageous.
You might also want to use the loadout that suits you the most and the weapons you are most comfortable with. Your aim and accuracy when coupled with positioning can do wonders for you. With that said, the best advice to get eight kills in a BR like COD Mobile is to play your natural game.
Don't think about getting the kills and just play for the fun.
We are hiring game guide writers!
Touch, Tap, Play is looking for experienced writers to produce guides for popular mobile and Nintendo Switch titles. If mobile gaming is your passion and you want to get paid to create guides, you're in the right place. Check out our job ad today!