PUBG Mobile comes with a massive list of weapons of different categories, and each of them is designed explicitly for different situations. Even though any weapon can grant you some frags, it's essential to know which PUBG Mobile weapon is the most suitable for a specific situation on the battlefield.
While playing huge maps like Miramar, players often engage in long-distance fights, and clearly, Assault Rifles, SMG, Pistols are not going to help you out there. To dominate your opponents in long-range fights, you definitely need a weapon that can deliver substantial damage output without ignoring the accuracy too.
Therefore, in this guide, we've listed out the best long-range guns to use in PUBG Mobile. Moreover, you will also learn about each weapon stats, which will give you a better idea about which one is the most appropriate for you.
Best Long Range Weapons to use in PUBG Mobile
Mini 14
Mini 14 is one of the most lethal guns of the DMR category. For unaware, DMR stands for Designated Marksman Rifles and is often referred as a combination of Snipers and Assault Rifles.
From medium to long-range flights, Mini 14 can do it all for you. It can easily shred the enemies in distant fights and lead you to the Chicken Dinner in PUBG Mobile. While using Mini 14, we strongly recommend to equip 8x scope if the enemy is standing more than 300 meters away. Otherwise, 4x scope is all you need to outperform your opponents during an edge to edge fight. Here's a look at the Mini 14 weapon stats.
| | |
| --- | --- |
| Stats | Value |
| Damage Output | 53 |
| Range | 75 |
| Recoil | 45 |
| Fire Rate | 60 |
| Ammo | 5.56mm |
MK14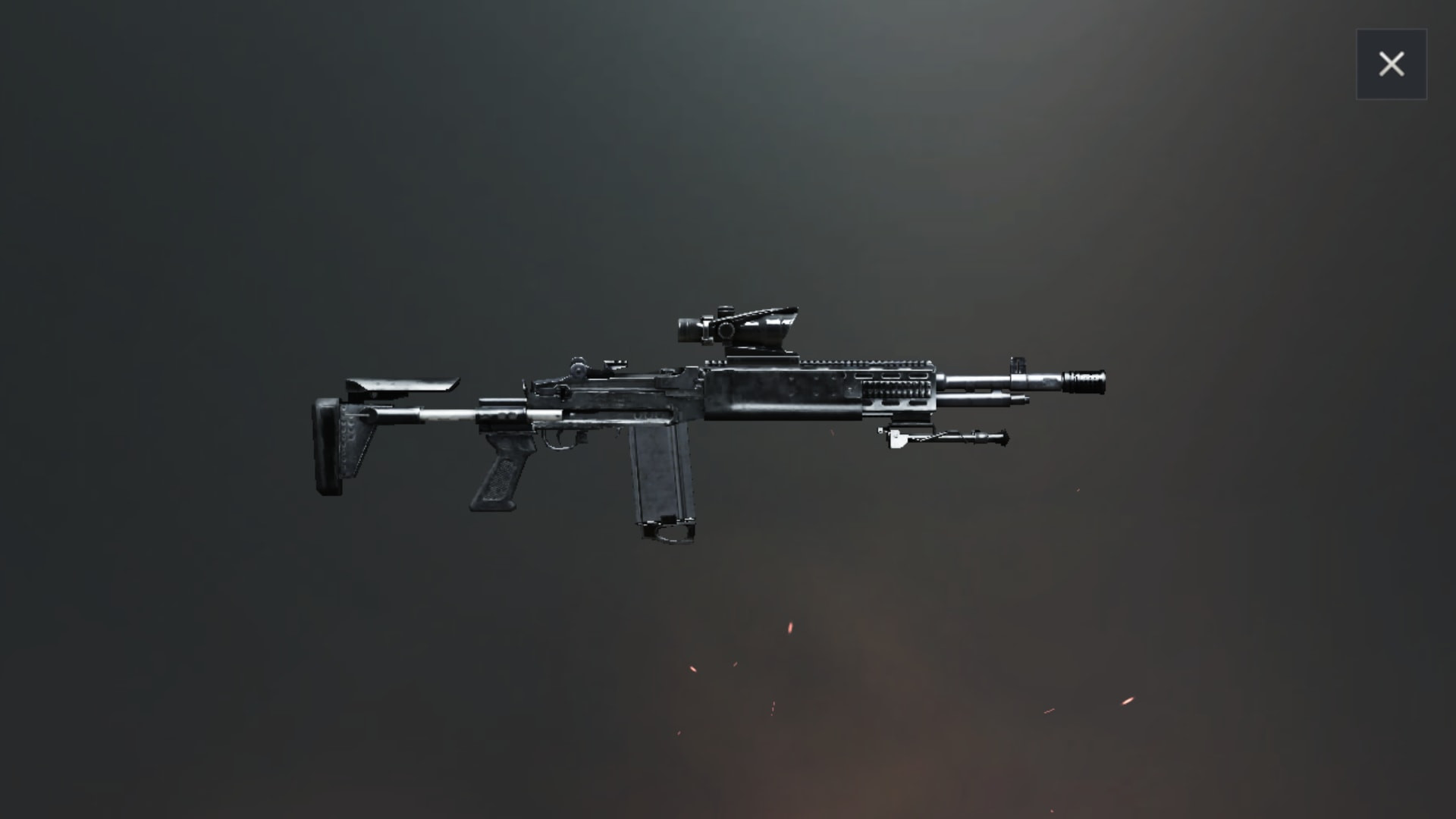 MK14 is a fully automatic DMR that enables players to use it as Assault Rifles to combat in both close and long-range fights. The MK14 can deal with solid damage output over different ranges on the account of its damage per shot. Unlike other DMRs, MK14 doesn't randomly spawn on the map, and since it's a rare weapon, players can only obtain it via Airdrops.
Despite being an Automatic weapon, players can also switch to Single Fire mode to command distant enemies. To properly use MK14 in PUBG Mobile, players need a stack of 7.62mm rounds as the gun can empty the whole magazine in just a few seconds. Thus, it's better to keep some extra ammo while using MK14 on the battlefield.
| | |
| --- | --- |
| Stats | Value |
| Damage Output | 61 |
| Range | 80 |
| Recoil | 50 |
| Fire Rate | 70 |
| Ammo | 7.62mm |
Kar98k
When you find Kar98k in PUBG Mobile, it means you've got one of the most powerful Sniper Rifle of the game. With Kar98k, you can quickly shred the enemies in the long-range fight making a straight path for victory.
Much like the M24 Bolt Action rifle, Kar98k can deal with a damage output of 74 in a single shot, which is enough to scrap the opponent's helmet and vest. Moreover, it also offers better accuracy and less bullet drop than other weapons, making it easy for you to eliminate the moving target.
| | |
| --- | --- |
| Stats | Value |
| Damage Output | 74 |
| Range | 90 |
| Recoil | 13 |
| Fire Rate | 1 |
| Ammo | 7.62mm |
AWM
AWM is still the King of all the weapons and the most preferred firearm by every PUBG Mobile player. For those who don't know, AWM stands for Arctic Warfare Magnum and it exists in pretty much all the battle royale games.
To date, AWM is considered the most superior and deadliest weapon of PUBG Mobile, and there's a reason behind it. With the highest damage output and light like range, AWM can easily pick off the enemy at any distance in a single shot. And when it's mentioned single shot, it doesn't even mean that a level 3 helmet and shield can cease its bullet.
Unfortunately, just like other rare weapons, AWM has no spawn on the map, and players have to hunt the airdrops to grab this beast gun. Furthermore, the Airdrop will only provide 15x .338 Lapua Magnum bullet rounds, which is the only downside of the weapon. Thus, every AWM shot matters a lot, and it's necessary to use every bullet wisely.
| | |
| --- | --- |
| Stats | Value |
| Damage Output | 105 |
| Range | 100 |
| Recoil | 15 |
| Fire Rate | 1 |
| Ammo | Magnum bullets |
---
And with that, we'll like to wrap up the guide for the best long-range weapons to use in PUBG Mobile. Also, make sure to share this article with your PUBG Mobile friends.
We are hiring game guide writers!
Touch, Tap, Play is looking for experienced writers to produce guides for popular mobile and Nintendo Switch titles. If mobile gaming is your passion and you want to get paid to create guides, you're in the right place. Check out our job ad today!